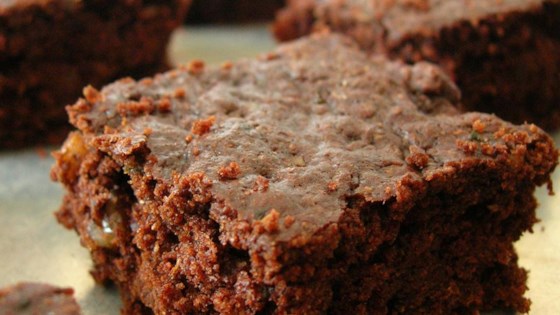 Meredith loves making these Zucchini Brownies, she found the recipe here! These delicious brownies contain two whole cups of vegetables, making them  "reduced guilt" brownies. Meredith suggests omitting the walnuts and replacing them with chocolate or carob chips. She also says that putting the frosting on top is a must, it helps camouflage the texture which is slightly different than a normal brownie.
Ingredients
1/2 cup vegetable oil

1 1/2 cups white sugar

2 teaspoons vanilla extract

2 cups all-purpose flour

1/2 cup unsweetened cocoa powder

1 1/2 teaspoons baking soda

1 teaspoon salt

2 cups shredded zucchini

1/2 cup chopped walnuts

6 tablespoons unsweetened cocoa powder

1/4 cup margarine

2 cups confectioners' sugar

1/4 cup milk

1/2 teaspoon vanilla extract
Directions
1. Preheat oven to 350 degrees F (175 degrees C). Grease and flour a 9x13 inch baking pan.
2. In a large bowl, mix together the oil, sugar and 2 teaspoons vanilla until well blended. Combine the flour, 1/2 cup
cocoa, baking soda and salt; stir into the sugar mixture. Fold in the zucchini and walnuts. Spread evenly into the
prepared pan.
3. Bake for 25 to 30 minutes in the preheated oven, until brownies spring back when gently touched.
Frosting
melt together the 6 tablespoons of cocoa and margarine; set aside to cool. In a medium bowl, blend together the confectioners' sugar, milk and 1/2 teaspoon vanilla. Stir in the cocoa mixture. Spread over cooled brownies before cutting into squares.
If you like Meredith's tasty brownie recipe, be sure to check out her awesome fabric flowers here and at Yellow Door!
Enjoy seeing what our artists like to create in the kitchen? Stay in the loop by signing up for our emails in the upper right hand corner of this site.